"…it is Mr. Dillon's function to rescue some of the best, if little-known, dramas which have already originated on these storied shores." —William Hogan, former film critic and book editor for the San Francisco Chronicle

Richard H. Dillon


BOOKS
BY THE
AUTHOR


Burnt-Out Fires: California's Modoc Indian War chronicles one of the most tragic campaigns ever fought against American Indians. The Modocs had assimilated the American culture…until asked to sign an unjust treaty taking away their tribal lands.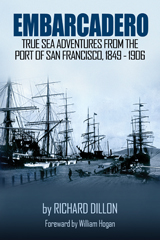 Embarca-
dero: True Sea Adventures from the Port of San Francisco, 1849 – 1906 are true tales filled with salt spray, blood-and-thunder and "man overboard" action.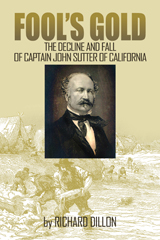 Fool's Gold: The Decline and Fall of Captain John Sutter of California tells how Sutter rose to power and influence only to lose it all following the the discovery of gold at his mill site in 1848.


The Gila Trail: The Texas Argonauts and the California Gold Rush is an account of one young lawyer's journey as one of the earliest emigrant parties to head for California from Texas.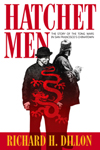 Hatchet Men: The Story of the Tong Wars in San Francisco's Chinatown depicts an exotic pre-1906 immigrant district teeming with thugs, prostitutes, gamblers, and warlords preying on scores of helpless victims.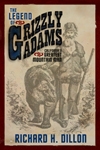 The Legend of Grizzly Adams: California's Greatest Mountian Man tells the story of the man who left New England for California to hunt and trap wildlife and later cultivated a society of bears in the wilderness of the West.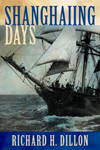 Shanghaiing Days gives the thrilling account of 19th century hell-ships, bucko mates and masters, and dangerous ports-of-call from San Francisco to Singapore.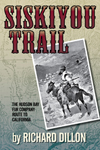 Siskiyou Trail: The Hudson Bay Fur Company Route to California was the fur trappers' and traders' road in the 1820s, '30s and '40s from Fort Vancouver (Washington State) to San Francisco and beyond.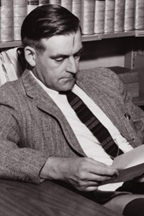 Richard Hugh Dillon is a native Californian, educated at the University of California, Berkeley. He was the head librarian of San Francisco's Sutro Library, a branch of the California State Library and the author of many articles and books on California's colorful history. He has taught at the University of San Francisco; the Fromm Institute; the University of Hawaii; and the University of California, Los Angeles.
As an author and historian, Dillon and his books have earned awards from the California Historical Society; the American Association for State and Local History; Laura Bride Powers award for distinguished service to the city of San Francisco; Oscar Lewis Award from the Book Club of California; and the San Francisco Historical Society. His book, Embarcadero, won a James D. Phelan Award in Literature and another work, Meriwether Lewis, was awarded the Gold Medal of the Commonwealth Club as the best non-fiction book by a Californian.
Dillon himself is descendant of Irish immigrant grandfathers; one a California gold miner and another, a soldier of the Union Army in the Civil War. He grew up in a family steeped in military history where his father, a legendary local war hero, was both married and buried at the San Francisco Presido. Dillon served in the US Army during World War II and returned to California with a Purple Heart.