HaCkeD By SA3D HaCk3D
Long Live to peshmarga

KurDish HaCk3rS WaS Here
fucked
FUCK ISIS !
Why buy cialis on the internet is really beneficial for you?
So you've decided to order cialis and do not know where to start? We can give you some advice. First, ask your doctor for advice in order to properly determine the dosage, when you do that, you need to decide for yourself exactly where you will be buying the drug. You can buy cialis online, or you can just buy it at the pharmacy. Buy cialis online has a number of advantages, one of which is price. The cost of the Internet will always be lower than in stores, and when combined with the free shipping, it will be the best choice. Besides the price there are a number of advantages over conventional pharmacies, one of which is anonymity. Also, you can always check the online store on reliability, read reviews about it and the opinion of other buyers. Read more.
   

B & N's Nook accounts for about 25% of the e-book market

.
Amazon, Apple, Google, Kobo—whichever company you buy your e-books from—knows more about your reading habits than you yourself may know.
For instance, according to a Wall Street Journal article they know:
• How many hours it takes you to read a book
• What parts of a book you choose to highlight
• What the first thing is that you do in the bookstore after you finish a book
• Which books you quit reading without finishing them
• If you skip the introductions
• How much time you spend reading any chapter or other part of a book
• What search terms you use to find books when shopping
 The retailers use this data both granularly—for instance to make suggestions to you of other books you might like—and globally—for instance to pinpoint the degree of eroticism in romance titles that will return the maximum sales.
The retailers are beginning to share this information with publishers who, I assume, will pressure authors to write books that cater to the details the data provides.
Will this intensify or squash the creativity of authors?  Will books begin to be aimed at the lowest common denominator as are TV sitcoms or will this allow authors to truly satisfy every desire in the nooks and crannies of the book reader universe?
You predict.
 Just a write thought.
Physician and columnist, Peter H. Gott died June 13. He was the most famous syndicated medical columnist in the country, receiving 2,500 letters weekly.
I was proud to publish his books and proud to call him a friend. I visited him  in his Connecticut home once or twice and he came to Fresno once.
His hometown obituary didn't mention his friend Pat Miller. They had been a couple for two decades and I know she added love, warmth, and direction to his life.
When I was trying to sell Peter on the idea of doing the No Flour, No Sugar Diet book he would only respond that, if we put one word on each page, it would only be 4 pages long. His diet was that simple.
One day when I was talking to Pat on the phone, she said, "We'll get him to do that diet book" and, at that moment, I knew we would.
I think Peter was glad Pat came on board with the diet book idea, it was the book that made him a New York Times best-selling author and was a grand cap to a fabulous career of helping people.
People ask me what I mean when I say you need to put your voice into your writing. When Peter wrote, he wrote with humor, warmth, and compassion, three characteristics that were part of his spirit. Peter cared about people and he thought doctors were often "pompous asses" and this came  through no matter the subject he was writing about.
He'll be missed.
Just a write thought.
Known for his (practiced?) eccentricity, T. E. Lawrence was, as described in the unattributed Introduction to his Revolt in the Desert, an "archeologist, philosopher, diplomat and student of military affairs, [with] the genius of a surpassing leader of irregular cavalry."
Apparently he was also something of an opportunist. Before World War I, while on a more-or-less unofficial mission for the British government, Arab tribesmen mistook him for a man of authority. Lawrence took it from there, coopting the dangerous task of instigating the Arab Revolt against Ottoman-Turkish rule. The revolt, in the complex intrigues of pre-WWI posturing, would work to Britain's advantage.
 An "Oh, no!" moment.
In 1919 he wrote a 400,000-word account of his Arab adventures. He left the book and many photographs in a handbag in the Reading railway station. When he returned it was gone.
Luckily for history, he started again from scratch.
 Unconventional answers
His eccentricity shows in the responses he penned to the poor fellow charged with proofreading his manuscript. The publisher, both, I suppose to share in the amusement and to shield his company from claims of laxity, included in the book the following:
 P U B L I S H E R'S N O TE
It seems necessary to explain that the spelling of Arabic names throughout this book varies according to the whim of the author.
The publisher's proof-reader objected strongly to the apparent inconsistencies which he found, and a long and entertaining correspondence ensued between author and publisher. The author's attitude can best be judged from the following extracts which show questions and answers in parallel columns [here shown with the question in red and T.E. Lawrence's reply in blue].
 Q.
I attach a list of queries raised by F. who is reading the proofs. He finds these very clean, but full of inconsistencies in the spelling of proper names, a point which reviewers often take up. Will you annotate it in the margin, so that I can get the proofs straightened?
A.
Annotated: not very helpfully perhaps. Arabic names won't go into English, exactly, for their consonants are not the same as ours, and their vowels, like ours, vary from district to district. There are some 'scientific systems' of transliteration, helpful to people who know enough Arabic not to need helping, but a wash-out for the world. I spell my names anyhow, to show what rot the systems are.
 Q.
Slip I. Jeddah and Jidda used impartially throughout. Intentional?
 A.
Rather!
Q.
Slip 16. Bir Waheida, was Bir Waheidi.
A.
Why not? All one place.
Q.
Slip 20. Nuri, Emir of the Ruwalla, belongs to the 'chief family of the Rualla.' On Slip 33 'Rualla horse,' and Slip 38, 'killed one Rueili.' In all later slips 'Rualla.'
 A .
Should have also used Ruwala and Ruala.
 Q.
Slip 28. The Biaaita is also spelt Biseita.
 A.
Good.
 Q.
Slip 47. Jedha, the she camel, was Jedhah on Slip 40.
 A.
She was a splendid beast.
 Q.
Slip 53. 'Meleager, the immoral poet.' I have put 'immortal' poet, but the author may mean immoral after all.
 A.
Immorality I know. Immortality I cannot judge. As you please: Meleager will not sue us for libel.
 Q.
Slip 65. Author is addressed 'Ya Auruns,' but on Slip 56 was 'Aurans.'
 A.
Also Lurens and Runs: not to mention 'Shaw.' More to follow, if time permits.
 Q.
Slip 78. Sherif Abd el Mayin of Slip 68 becomes el Main, el Mayein, el Muein, el Mayin, and el Muyein.
 A.
Good egg. I call this really ingenious.
 In the face of such replies to the publisher's well-intentioned questions, further expostulation was clearly impossible.
_______________
I've worked with a number of brilliant and, at times, difficult authors and I would work with all of them again, but being cavalier when working with editors or proofreaders isn't suggested for those with a second book in the works.
Just a write thought.
Many authors draw on personal experience for inspiration, falling back upon the maxim that it's best to "write what you know." Ex-Green Beret Barry Sadler is a prime example; having first parlayed a tour of Vietnam into a million-selling record album, he now enjoys a successful career as a novelist in the action/adventure genre. Big-city police work has yielded several authors of note, including Robert Daley, Dorothy Uhnak, and Jo­seph Wambaugh. Service in the intelligence community provides a taste of gritty realism to novels written by E. Howard Hunt and Bill Fieldhouse, not to mention the late, great Ian Fleming.The quest for raw experience is sometimes carried to extremes. One writer on the staff of Able Team (Gold Eagle Books) became so fascinated with the politics of Third World liberation struggles that he wound up in Sri Lanka, teaching martial arts to rebel forces, building barricades and booby traps while bloody riots raged around him in the streets. I generally would not recommend this type of "research" to the novice, but there's no denying that a taste of combat can provide new insight, bringing an immediacy to the printed page.It isn't necessary for an author to be living on the edge, however, for experience to serve as inspiration. Even the most trivial, mundane event may offer grist for the creative mill. Stephen King's short story "Crouch End" was inspired when King got lost in London's back streets, searching for a friend's address. In 1983, Gold Eagle's authors gathered for a two- day conference in Las Vegas, plotting new directions for their series. One of the attendees, Jerry Ahem, subsequently used the meeting as the center­piece of an adventure novel. In
The Hard Way
(Gold Eagle, 1984), Ahem portrays a group of action writers, meeting in Las Vegas, who are taken hostage by a band of terrorists. They finally defeat the heavies, using weap­ons one of them habitually carries in his luggage, and the day is saved.
Assuming that you're not a mercenary, and you don't spend your vaca­tions stalking terrorists or bugging embassies, you have another source of inspiration at your fingertips. That's right—the daily news! If you possess the requisite imagination to be writing novels in the first place, any net­work news show, any major urban daily should provide you with at least the germ of an idea. If you cannot rack up at least a dozen viable sugges­tions from the news in any given week, there's something badly out of whack. I'd recommend you try a different source, or take another look at the material in hand to jump-start your imagination.
Television and the movies fall back constantly on current issues as the basis for their action plots. In Dirty Harry, for example, the sadistic "Scorpio" is no more than a stand-in for a real-life killer, the elusive "Zo­diac." (Unlike the heavy played by Andy Robinson, however, Zodiac is still at large.) An episode of TV's "Equalizer" squared the title hero off against an adult bully bent on harassing a small boy plagued with AIDS— a story lifted more or less intact from headlines out of Florida and Indiana. And if you're afflicted with insomnia some evening, don't waste time with sheep; try counting all the films and novels rooted in the controversy over MIAs in Vietnam.
I personally try to link my action novels with the latest news whenever possible. A blend of fact and fiction, if judiciously employed, adds authen­ticity—and it may entice new readers who are interested in your subject matter from their own perusal of the daily news. In 1981, when several members of the Ku Klux Klan were busted on the eve of their attempt to seize the island of Dominica, I saw potential for a story. Phasing out the Klan in favor of a neo-fascist billionaire with syndicate connections, plan­ning an invasion of Grenada, I produced the novel Paramilitary Plot (Gold Eagle, 1982). Reports of Yakuza involvement in Las Vegas gambling in­spired The Bone Yard, and a Sunday supplement on teenage runaways in Southern California prompted me to write Hollywood Hell (both from Gold Eagle, 1985). In 1986, a "60 Minutes" segment dealing with Viet­namese "dust children" planted the seed for a revenge novel, Child of Blood, which sold to Bantam Books.
Sometimes, with luck, you get the jump on history. Six months before the flight crew of a skyjacked aircraft used their fire ax on a terrorist, with permanent results, I included a similar scene in the manuscript of Flight 741 (Gold Eagle, 1986). And five full years before Islamic gunmen captured the Achille Lauro, I dispatched a team of Black September terrorists to seize the good ship Crystal Belle, in Death Cruise (Carousel, 1980).
Psychic? Hardly. Nor do I believe the PLO was studying my manuscript before they launched their raid. The fact is, if you learn enough about the real-life heavies, come to understand the way they think and operate, you may incorporate a realism in your work that offers a decided edge in mak­ing sales.
With 248 (!) published books under his ammo belt, one might reasonably expect to learn a bit on how to write from Michael Newton.
Just a write thought.
I attended the Digital Book World Conference in New York City toward the end of January.
It was held at the Sheraton Towers on 7th Avenue, just down the street from Molyvos Restaurant where famed freelance editor Patrick LoBrutto and I lunched on roasted octopus.
Here, to get you thinking, and in no particular order, is just a little of what I culled from the three-day affair:
• Kobo, the Canadian answer to Kindle and now Japanese-owned, is transforming itself for the international market.
• Seven percent of Kobo's titles are self-published—it's 14% in Africa—making Kobo among the world's largest publishers.
• Kobo's English language sales are up in non-English markets 300% in "all kinds of places we never expected."
• Metadata has never been so important. Including the basics increases sales 98%. Enhanced metadata with only four additional elements increased sales an additional 55%. For more information on metadata go to www.nielsenbookscan.co.uk.
• One in three American adults now owns a tablet or e-reader. These people are just one click away from ordering a book no matter where they are.
• Today books find the reader instead of the other way around.
• Bookstore recommendations are said to still drive 30% of the sales.
• Amazon has sold 1.3 million kindles in the UK or 92% of all UK e-readers.
• Generally DRM (Digital Rights Management) is looked down on by those in the industry. It is thought that it might even make piracy worse.
• Today we can gather more data than ever before. Including data on how consumers are using the books. Which pages they linger on and more.
• Getting the data is one thing, figuring how to use it another.
• E-books are 26% of adult fiction sales. Nonfiction lags behind fiction.
• With illustrated e-books, making the consumer pinch and zoom is thought to produce a poor reader experience. This is a problem with small screens like the one on the iPhone.
• The price range of $7.99 to $10.99 is popular with illustrated e-books.
• Book apps are taking a beating with publishers considering the e-pub options first. E-pub3 should further this trend.
• Measure the success of your website not just in traffic, but in engagement.
• Look for additional ways beyond selling books to create revenue from your site. Perhaps partner with a company with an allied product.
• As we all know, technology is advancing at a never before experienced rate, but, according to futurist David Houle, the rate at which technology is advancing is itself advancing 100-fold. He predicts that the same amount of  technological progress of the last 1,000 years will be experienced in the next decade.
• Curation is the next big thing in the Internet.
• Be the parent of the future, not the child of the past.
If the advances in technology don't excite you, feel around to see if you are lying in a satin-lined box.
Just a write thought.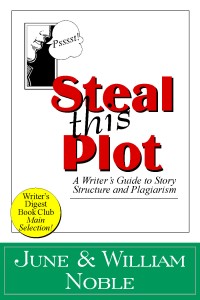 The following is excerpted from June and William Noble's classic, Steal This Plot: A Writer's Guide to Story Structure and Plagiarism. (The Write Thought recently republished Steal This Plot in our Classic Wisdom on Writing Series.)
There are certain items which become basic to story construction, and we've chosen to call them "plot motivators." They aren't plots, nor are they dramatic situations. They simply move the plot along and provide drama. There are thirteen in all which cover most available story opportunities for the writer.
But why plot motivator?
Because a plot—the story within a story—without some direction is like a large boulder in a bubbling stream. It's a lovely scene. You see it, you might even be able to touch it, but it doesn't move! Plot motivators make a story move, and they are the prime devices by which a writer can steal a plot and make it his own.
Take Benchley's Jaws. Many have compared it, at least superficially, to Herman Melville's Moby Dick in the sense that there is an unremitting chase or search for a great white fish. Here again we have a similar plot—a human-devouring beast that must be destroyed. But look at what Benchley has done. He has asked "what if…" the scene becomes the south shore of Long Island… the fish is a Great White Shark… the hunters are motivated by more financial reward than anything else….
Yet before Benchley's plot will really work, he has to ask why! Why must the fish be destroyed? The answer lies in the plot motivator, i.e. vengeance. Ahab in Moby Dick and his counterpart, the fishing boat captain in Jaws have both suffered grievous harm from the great white fish, and so they set out to destroy it to salve their own concepts of revenge. Vengeance moves the plot along; it motivates it!
Following are the common plot motivators that appear and reappear through literature. At any given time, of course, more than one plot motivator can exist side by side, affecting the story. The point is that these are the wheels that make the story go; they are the underpinnings for the various dramatic situations. You can take any story idea, attach one or more of these motivators to it, and you'll have a plot and a story line.
In no particular order of importance the plot motivators are:
Vengeance
Catastrophe
Love and Hate
The Chase
Grief and Loss
Rebellion
Persecution
Self-Sacrifice
Survival (deliverance)
Rivalry
Discovery (quest)
Ambition
Betrayal
As good as plot motivators are in developing a story, there are times when they need further substance and direction. Think, for instance, about Ernest Hemingway's well-told story, The Old Man and the Sea. The plot is simple and straightforward: Santiago, an old Cuban fisherman, sets out in his small boat to pursue his livelihood, alone and with just the barest of gear. Far from shore he lands the largest marlin he has ever seen, a fish that if he gets to port intact will rectify, perhaps forever, the misery he has endured throughout his life. Eighty-four days he has gone without catching a fish, and now his salvation is at hand!
Enter the plot motivator—survival. Hemingway paints a vivid portrait of Santiago's fight, not only to land the huge fish but also to get it, intact, back to shore where he would be honored and recognized for such a feat. And it is truly an epic battle for survival, for the fisherman is almost overwhelmed time and time again, first by the huge marlin itself and then by the predators who are drawn to the boat by the trailing blood of the marlin as it remains lashed alongside. Survival is clearly the plot motivator for this story, and a battle for survival is fine story material.
When you are reading a novel or short story, see if you can identify multiple plot motivators. The best fiction writers mix and match plot motivators to make plots complex and rewarding to the reader.
Just a write thought.
Happy New Year.
There's been quite a ruckus in the book publishing world lately. Amazon.com has recently announced its long-anticipated foray into lending e-books.
Kindle owners who are also Amazon Prime members, in addition to getting free two-day shipping on their orders and "unlimited instant streaming of thousands of movies and TV shows," can also borrow books to read without an additional payment (Amazon Prime membership costs $79 per year). There doesn't appear to be any limit on how long a book can be borrowed but only one book can be borrowed at a time.
Amazon says its lending library offers over 5,000 titles including 100 New York Times bestsellers. This is a far cry from the millions of print titles available on Amazon or the hundreds of thousands of e-books available as Kindle editions, but it is a toe in the water and publishers, authors, and literary agents are nervous.
How's it work?
Amazon Prime members who are also Kindle owners are now presented with a "Borrow for Free" button next to the "Buy" button on selected books. When the member chooses to borrow a title, Amazon credits the publisher's account with the same dollar amount as if the e-book was sold rather than loaned. At this point, the Amazon Prime member gets to read the book as a part of his or her yearly fee and the publisher effectively gets a full-priced sale.
So, why the controversy?
This sounds fair to me. I'd sign The Write Thought titles up. So why the hubbub?
I think the concern from the publishers—most publishers with titles among those available for loan weren't notified that their titles would be included in this program—is that they haven't agreed to Amazon "lending" titles even if Amazon pays as if they sold it.
Also, apparently Amazon plans to report revenue from this program to publishers as a lump sum leaving the publishers to allocate this revenue their authors. Amazon is said to be basing this lump sum by looking at the 12-month sales history of titles included in the program. A rather nebulous reporting method at best.
I think the Authors Guild and the Association of Authors' Representatives (literary agents), two groups that have spoken out about this, are concerned since most contracts between authors and publishers have a set royalty paid to the author based on revenue from each e-books sale, say 25% of net revenue and a different amount on revenue generated from rights sales, say 50% of net.
The question being, which is this? Revenue from the sale of a book or revenue from a subsidiary right? And, of course, how is a publisher to properly allocate each of its author's revenue share if Amazon doesn't supply a complete breakdown by title?
Another concern, of course, is if this is simply Amazon's first salvo into the world of lending books; will Amazon attempt to morph the program into something else. For instance, can Amazon purchase one copy of an e-book and "lend" or "rent" it as many times as it likes? Pay the publisher once and rent or loan it many times. Libraries do this now and many years ago so did bookstores.
The world is still hazy when it comes to e-books.
Just a write thought.
A dozen times a week I'll stumble upon a news story or an article on the web that I'm interested in but don't want to take the time to read right then.
This happens too when I'm researching material for this blog or the three (!) books I'm writing.
Pigs don't fly.
I have never been foolish enough to tell myself I'd remember to go back to an article, so I tried to solve this problem by making folders under my browser's "Favorites" for each project I was working on. I even had one called "Hot at the Moment" for oddball things that interested me but didn't apply to my work.
There were numerous problems with this system. Foremost among them was that the folders would quickly fill up with a confusing morass of links. I also found myself reluctant to spend more time on the computer reading than I was already putting in.
Enter Instapaper.
With one click on a button on my browser toolbar titled "Read Later" I can now save the text on any web page to my Instapaper account.
Instapaper automatically synchs what I save to my iPad via the Instapaper app. The app's opening screen lists the title of each of the items saved with a few lines of text so I can easily find what I'm looking for.
Since the items are downloaded to the iPad, I can read them anywhere including bed, bath, or beyond. Ok, not bath. That really would be daring with an iPad.
It's mostly free and easy.
To get started, create a free account on Instapaper's website and follow the simple instructions to install the Read Later button on your browser.
The iPad app, which is good to go on your iPhone too, is $4.99.
No iPad but you've got a Kindle or a Nook? With a little finessing you can download what you've saved to either one. Go here for instructions.
No iPad, no Kindle, and no Nook? Where do you buy those leisure suits? Have no fear, you can read your saved articles on your PC or laptop too.
Isn't it great? With technology, life just gets easier and easier.
Just a write thought.